Tracking Smartphone Allows you to monitor your or your dependents mobile via this website. You need to install this app on the device which you want to track remotely. If you want to track your dependents mobile then you need atleast 5 min access to that mobile.
Here are the steps listed to download, install and configure 'Tracking Smartphone' App on the device you want to track.
1. Download App from here: http://trackingsmartphone.com/download/
2. Once Downloaded, install the app on device.
3. Open the App and enter your 'Email Id'. Make sure to enter valid email Id as login information will be sent to this id along with the password.
4. Enter Password in the next screen.
5. Once registration is successful, Verify Settigs to make sure all tracking is enabled. Call Recordings will be disabled by default, enable it if its needed.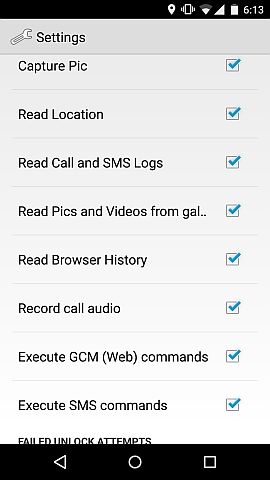 6. Hide Icon if you do not wish app to be shown in app drawer. To do that click on top right menu in home screen as shown below and click Hide icon. To Unhide icon you need to dail *666* from normal dailer.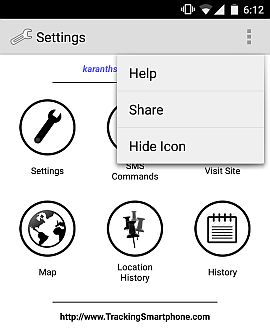 7. As a last step, disable security checks of apps from Google. If you dont disable the user might get a warning once in a while notifying user about a spy app in their mobile and asking them to uninstall it. To disable Go to Settings -> Google -> Security -> And uncheck "Scan Device for Security threats". The location of this option might differ in other mobiles.
8. Thats it and you are set. Please note no information will be sent to server unless its pulled by user himself. And when user tries to pull data from device, the device needs to have active internet connection. You can use SMS commands to get basic information from device without internet.
If you face any problem during installation or configuration do let us know in the comment box below. We will try to address it asap.